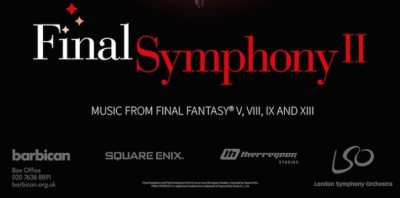 Etwas mehr als einen Monat vor der Weltpremiere in Bonn wurde die Trackliste von Final Symphony II enthüllt.
Die neue Konzertreihe wird mit einem Stück namens "In a Roundabout Way – Fanfare" beginnen, einem Original-Titel von Jonne Valtonen, der an Final Symphony II beteiligt ist. Danach wird es vier komplexe, neue Final Fantasy Arrangements geben, jeweils eins zu Final Fantasy V, VIII, IX und XIII. Einige der enthaltenen Titel wurden nun bekanntgegeben.
"Utopia In The Sky" – Final Fantasy XIII
Arrangiert von Masashi Hamauzu und Jonne Valtonen
Prelude to FINAL FANTASY XIII
Vanille's Theme
Nautilus
Blinded by Light
"For the People of Gaia" – Final Fantasy IX
Arrangiert von Roger Wanamo
Vivi's Theme
Festival of the Hunt
Mourning the Sky
Assault of the Silver Dragon
"Mono no Aware" – Final Fantasy VIII
Arrangiert von Roger Wanamo
Don't Be Afraid
The Landing
Waltz for the Moon
The Oath
"Library of Ancients" – Final Fantasy V
Arrangiert von Jonne Valtonen
Reina's Theme
Spreading Grand Wings
The Evil Lord X-Death
Main Theme of FINAL FANTASY V
[Via RPGSite]
---
Wie findet ihr die bisherige Tracklist von Final Symphony II und werdet ihr dort sein? Schreibt es hier!