Wie bereits heute Nacht bekannt gegeben wurde, erscheint ein neues TWEWY für Android/iOS diesen Winter. Die Famitsu hat erste Screenshots und Infos zu The World Ends With You -LIVE Remix- online gestellt.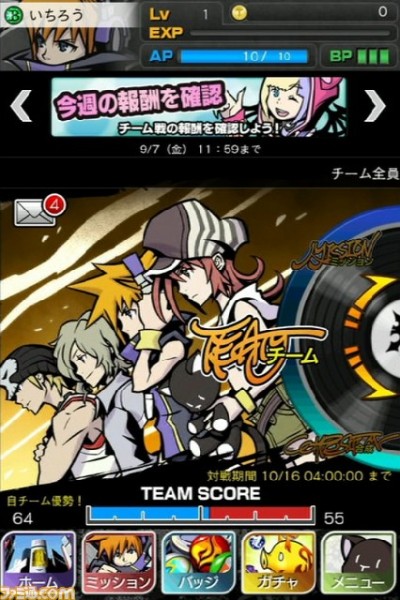 Während das Reaper's Game läuft, müssen die Spieler in jedem Areal den "Ringleader Noise" aufspüren und besiegen, der niedere Gestalten zum Angriff befehligt. Die "Ringleader Noise" besitzen merklich erhöhte Statuswerte, daher sollte man auf der Hut sein.
Zu Beginn jeder Woche werden die Spieler per Zufall in eines von 20 Teams zugeteilt. Während ihr mit anderen Teams konkurriert, häuft ihr Punkte auf der Suche nach den "Ringleader Noise" an, aber um den Sieg zu erlangen, könnt ihr euch zusammen tun, was die Höhe eurer Belohnung nicht negativ beeinflusst. Die Steuerung ist wie im Original für DS bzw. wie in TWEWY -Solo Remix- gehalten.
Der neue Reaper in LIVE Remix, der euch durch das Reaper's Game navigiert, heißt New Kid (Atarashi Koko). Sie wird euch auf eurem Überlebenskampf durch Shibuya zur Seite stehen.
[Via KH Insider]
---
Macht TWEWY -LIVE Remix- einen interessante Eindruck auf euch? Postet hier!