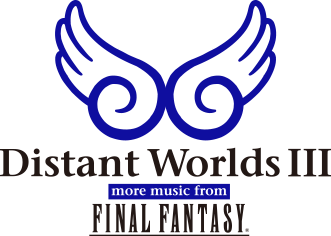 Am 21. Januar 2015 erscheint das dritte Album zur weltweit erfolgreichen FF-Konzertreihe Distant Worlds. Auf der offiziellen Webseite zu Distant Worlds III – More Music from FINAL FANTASY gibt es nun eine komplette Titelliste mit Hörproben.

"Prayer's Song ~ The Sending"aus FF X (祈りの歌 ~ 異界送り, inori no Uta ~ ikai okuri)
"Battle & Victory Fanfare" aus FF-Serie (バトル&勝利のファンファーレ メドレー, BATORU & Shouri no FANFAREE)
"Kiss Me Good-Bye" aus FF XII (Gesang: Susan Calloway)
"You Are Not Alone" aus FF IX (独りじゃない, hitori janai)
"Balamb GARDEN ~ Ami" aus FF VIII
"Character Theme Medley" aus FF VI (キャラクターテーマ メドレー, KYARAKUTAA TEEMA MEDOREE)
"Fabula Nova Crystallis" aus FF XIII (ファブラ・ノヴァ・クリスタリス, FABURA NOBA KURISUTARIS)
"Blinded by Light" aus FF XIII (閃光, senkou)
"Primal Judgment" aus FF XIV (原始の審判, genshi no shinpan)
"Rose of May" aus FF IX (ローズ・オブ・メイ, ROOZU OBU MEI)
"Chocobo Medley 2012" aus FF-Serie (チョコボメドレー2012, CHOCOBO MEDOREE 2012)
"Balance Is Restored – Short Version" aus FF VI (蘇る緑 – ショートバージョン, yomigaeru midori – SHOOTO BAAJON)
"Answers" aus FF XIV (Gesang: Susan Calloway)
Interessanterweise listet der japanische Square Enix e-STORE einen Titel mehr, nämlich "Festival of the Hunt" aus FF IX (ハンターチャンス, HANTAA CHANSU). Dieser ist nicht auf der Album-Webseite aufgeführt.
---
Was sagt ihr zur Titelliste von Distant Worlds III? Postet hier!