Am 21. Juni 2014 (Sa) findet in der Suntory Hall in Tokio ein besondere Weltpremiere im Bezug auf orchestrierte Square Enix Videospielmusik statt. Zum ersten Mal wird ein Konzert vom Tokio Kammerorchester aufgeführt, dass sich allein den Musikstücken aus Final Fantasy VII widmet. Das erste Konzert der neuen Projektreihe "Game Symphony Japan" wird seit Mitte 2012 sorgfältig vorbereitet, beruhend darauf, dass Spielemusikkonzerte über die letzten Jahre eine große Zahl an Fans dazugewinnen konnten.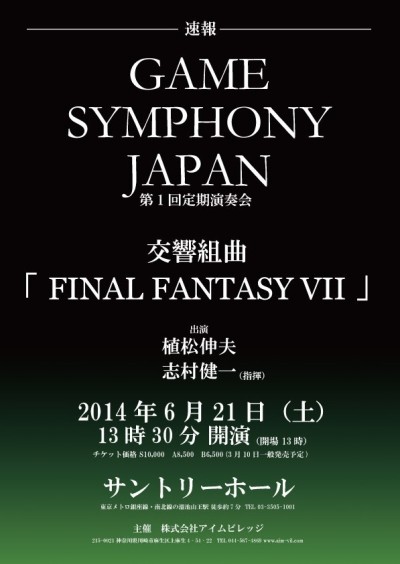 Das Konzert ist in drei Akte unterteilt, die jeweils von den Komponisten Tomomichi Takeoka, Souhei Kano und Yutaka Kimura arrangiert wurden, und die das Spiel musikalisch nacherzählen. Die Akte selbst bestehen aus mehreren Suiten, in denen verschiedenen Stücken miteinander verwoben sind. Als Gast wird natürlich Komponist Nobuo Ueamtsu Anwesend sein.
Akt 1 (arrangiert von Tomomichi Takeoka)
Opening ~ Bombing Mission (Teil 1) ~ Makou Reactor ~ Bombing Mission (Teil 2)
Flowers Blooming in the Church ~ Hurry! ~ Those Who Fight ~ Fanfare
Shin-Ra Company ~ Trail of Blood ~ Those Who Fight Further ~ Crazy Motorcycle
Final Fantasy VII Main Theme
Akt 2 (arrangiert von Souhei Kano)
On That Day 5 Years Ago ~ Those Chosen by the Planet
Gold Saucer ~ Words Extinguished by Fireworks
Anxious Heart ~ Who… Am I? ~ Aeris' Theme
From the Edge of Despair ~ Beyound the Mountain ~ Highwind Takes to the Skies
Cosmo Canyon ~ Holding the Thoughts in my Heart ~ Lifestream
The Nightmare Begins ~ J-E-N-O-V-A
Akt 3 (arrangiert von Yutaka Kimura)
The Great Northern Cave ~ Judgement Day ~ Reunion ~ Jenvoa Absolute
Birth of God ~ One-Winged Angel
Planet's Crisis ~ Staff Roll
Takeota und Kano sind noch relativ junge Komponisten, aber alle drei haben bereits in diversen Wettbewerben Preise für ihr ausgezeichnetes Talent erhalten und an diversen Produktionen mitgewirkt. Man darf als Besucher wirklich gespannt sein, und mit etwas Hoffnung erwartet vielleicht sogar Fans auf der ganzen Welt ein Mittschnitt.

[Via Aim Village, Inc. Music Devision]
---
Ein solches Konzert hier bei uns, wie wäre das? Postet hier!