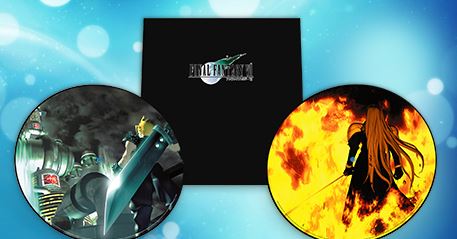 Square Enix hat sich für Musik-Fans etwas Besonderes einfallen lassen: Einige ausgewählte Stücke des originalen Soundtracks von Final Fantasy VII werden demnächst in Form von Grammofonschallplatten veröffentlicht. Die Final Fantasy VII Vinyl Limited Edition umfasst vier Discs und wird 49,99 € kosten. Es handelt sich dabei um eine auf nur 1.200 Exemplare für die EMEA-Region limitierte Edition. Das Sammlerstück wird vorraussichtlich im Dezember erscheinen und kann im Square Enix Store vorbestellt werden. Diese Stücke werden auf den Vinyl-Scheiben zu hören sein:
Disc 1
The Prelude
Opening – Bombing Mission
Tifa´s Theme
Let the Battles Begin!
Turks´ Theme
Under the Rotting Pizza
Fight On!
The Chase
Disc 2
Main Theme of Final Fantasy VII
Farm Boy
Electric de Chocobo
In Search of the Man in Black
Rufus´s Welcoming Ceremony
JENOVA
Gold Saucer
Cait Sith´s Theme
Disc 3
Cosmo Canyon
Lifestream
Cid´s Theme
Wutai
Win/Place/Show Chocobo!
Words Drowned by Fireworks
Forested Temple
Aerith´s Theme
Disc 4
Shinra´s Full-Scale Assault
The Highwind Takes to the Skies
Birth of a God
One-Winged Angel
The Planet´s Crisis
[Quelle: JPGames]
---
Stellt ihr schon den Plattenspieler bereit? Sagt es uns hier!